Yesterday I shared my 3 design rules that go against the saying "Rule are meant to be broken." Today I'm showing you 3 of the rules that you can, and often times should, break.
1. Don't Paint a Small Room Dark
This is a design rule that's been drilled into our heads over and over again. And while this rule does have its merits it's not always true. Small rooms can be painted dark and still look fabulous. Dark rooms can be moody, cozy, and dramatic. Just make sure you have good lighting and use reflective surfaces like mirrors and metallics to keep the room from feeling like it's closing in.
Bathroom by Ashley Goforth Designs via Apartment Therapy
2. Make Sure All Your Wood Tones and Metals Match
Buying a set of matching furniture may be the easiest way to decorate a room but it's definitely not the best. Mixing and matching pieces gives your room a lot more interest and character. Even when you're not using pieces from a matching set you don't need to use only dark wood or light wood pieces; they can look beautiful when paired together in the same room. Lonny mag has some good tips on how to do this successfully.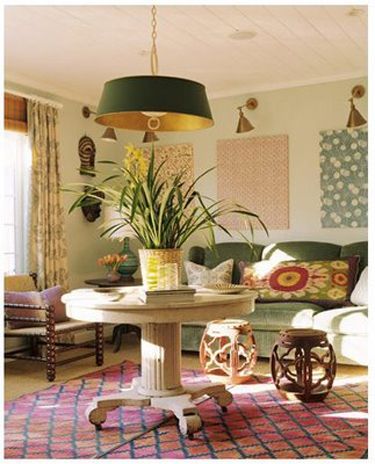 Peter Dunham via Little Green Notebook
The same mix and match mentality can apply to metals as well. You don't need to use only silver or only gold in a room; they can look amazing when mixed together, as proved by this beautiful living room. Just try to distribute the different metals evenly: you don't want a room full of silver accessories with one small odd gold piece thrown in.
via Lonny Mag
3. Only Use Accessories in the Room They Were Intended For
Just because you bought something in the living room or the bathroom section of the store doesn't mean you have to use it in the living room or the bathroom. In my bathroom I store my q-tips in a blue container meant for the kitchen and I store my makeup pads in a vintage tin meant for, well, I'm not sure where it's meant for. But I like both of these containers and they look great in my bathroom, so why not? Don't be afraid to use pieces in unexpected places, like lamps in a kitchen or art and upholstered stools in a bathroom.
Kitchen by Rolston via Elle Décor
Bathroom by Steven Sclaroff via House Beautiful