Happy Monday! I hope all of you here in the Midwest are staying warm today, despite the snow outside…is it Spring yet?? Who else is ready for warmer weather?!
Today's post is not related to decorating whatsoever, but it's something I feel the need to share so please bear with me. Also, please excuse the length, it's quite a bit longer and wordier than my average post.
I've been going to the movies a lot over the last few months. As part of my Thirty by Thirty list, I made a goal to see all the Best Picture nominees one year before the Oscars. You see, I love watching awards shows, but I usually feel really out of the loop because I've only seen one or two of the nominated movies. So I decided to rectify this and hopefully see some great movies in the process.
Who else is super excited for NPH to host?!
The Oscars are now six days away, and even though I haven't quite hit my goal of seeing all the movies, I'm throwing in the towel. I've seen five of the Best Picture nominees, and I may manage to see another one this week, but I think I've seen enough. Most of them aren't wowing me, and in fact one of the favorites to win it all was downright boring (Boyhood). I'd like to share my thoughts about each of the BP nominees I've seen, but that would make this post way too long, so I'll do that in a separate post tomorrow.
Now that I'm much better acquainted with the award-nominated movies, I'd like to pull a Kanye and take issue with the Oscars. Though I don't necessarily agree with the Academy's choices for Best Picture nominees, I think it's a tough balance between recognizing artistic talent, regardless of whether the movie was liked or even seen by millions of people, and awarding great movies that people actually enjoy.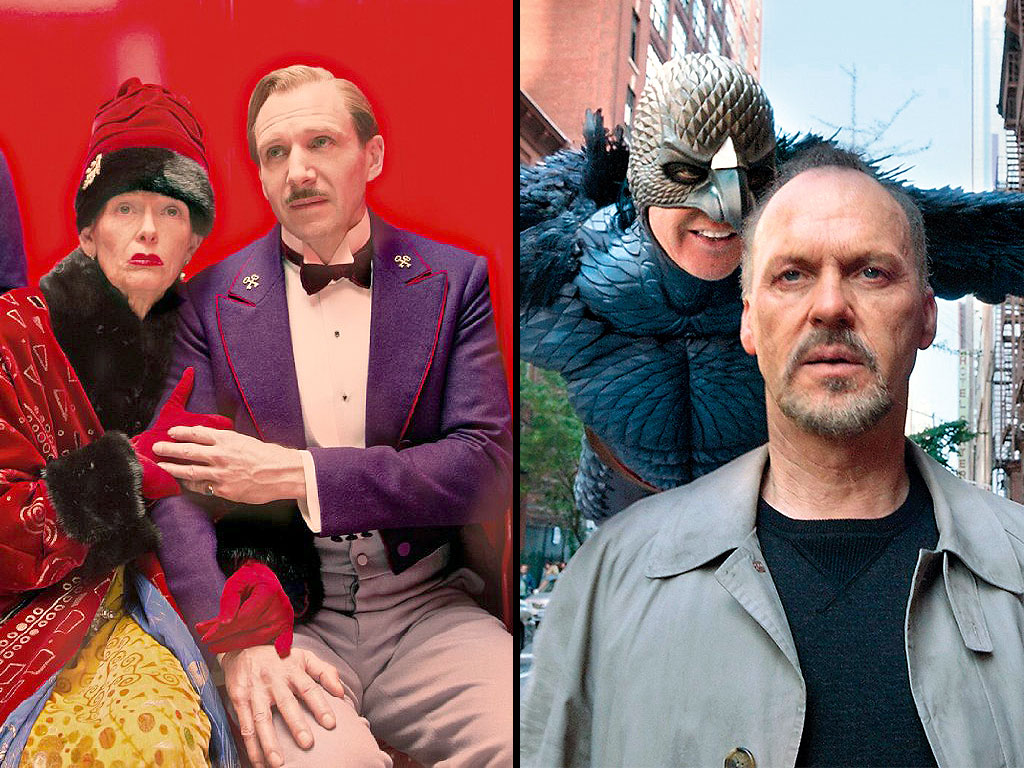 The two Best Picture nominees I did enjoy: The Grand Budapest Hotel and Birdman. Via People.com
But what I really have an issue with is the lack of recognition of women in movies. There have been many articles written on this subject, especially this year when the nominations were particularly dominated by white males. "Oscars 2015: How Are Women Portrayed In The 8 Movies Nominated for Best Picture" from Popinsomniacs is a great piece on how women measure up in each of the movies. Aside from The Theory of Everything and Selma (which of course happen to be 2 of the 3 movies I haven't seen yet), the women in the BP films are there as sidekicks to the genius and troubled male leads (if they're even there at all…looking at you, Whiplash). I'm not even going to touch the lack of racial diversity among the Oscars nominees; you can read more about that in this fantastic article from The Guardian.
Now if you'll allow me to change the subject a little bit, I'd like to talk about last night's Saturday Night Live 40th Anniversary Special. I love everything about Saturday Night Live. Which, to be clear, isn't the same thing as saying I love everything on Saturday Night Live. Obviously some seasons are better than others, some sketches are better than others, heck, some sketches can be downright terrible. But I love watching the show if only to catch those few moments of greatness.
via E! Online
Which is why I loved SNL40 so much, because they highlighted those amazing moments and gave us more (the Celebrity Jeopardy reboot was every bit as brilliant as the original, and any time Kate McKinnon as Justin Bieber appears on screen is a win for me). I got to watch so many of my favorite celebrities and cast members celebrate a show that I love. Aside from a few misses (Dan Aykroyd, Chevy Chase, Eddie Murphy), I consider the anniversary special wildly successful.
And while there were many talented and hilarious men on the show that I love so much, there were also so many women there that I love and admire. Tina, Amy, Kristen, Maya, and many other ladies that I find so amazing and funny and strong and beautiful. I admire them and look up to them, even though I have no aspirations of a career in comedy or acting. They're just cool women who can stand toe to toe with the men. They're not there as sidekicks. They're proof that women can be entertaining and talented and smart and, of course, funny.
photo via She Knows
Most of all, the women of SNL prove that women are worthy of notice (and not just for what dress they're wearing on the red carpet, although I do love the fashion element of awards shows too). I want to see more women staring in, and directing, and writing, great films! We make up half the population and slightly more than half of movie goers. It's time for Hollywood, and The Academy of Motion Pictures, to finally recognize that women are worthy of important roles, and not just as partners to men.